Here we will post examples of Elf related events and activities
There are hundreds of Elves involved in our Winter Holiday Program and our Summer Backpack program and they come up with some wonderful ways to make good things happen - activities, fundraisers, and events. If your family, office group, community organization or other group of Elves has an event or activity to share, please send a blurb to Bill Alberta (wna1(at)cornell.edu). In the meantime, we hope you enjoy these posts!
2017 bags of gifts ready for delivery to Cortland elementary schools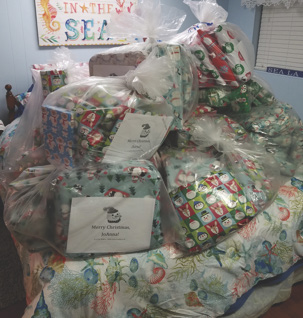 2017 Betty Blue Fundraiser
On Saturday, December 9 the Betty Blue held their Cornell Elves Fundraiser. Guest bartenders were teachers at Moravia Central School. Todd Mulvaney, Moravia Varsity Boys Coach participated in bartending and spending time with everyone in the community. 50/50 raffle tickets and a visit from Santa was extra special this year. We were able to raise $542 this year to support the children in Moravia. Thank you again to Joanne and Bill Badman for hosting this awesome event.

| | | |
| --- | --- | --- |
| Joanne Badman & Todd Mulvaney | Valerie Kelly & Katie Palmer-Smith | Todd Mulvaney & Tamara Austin |
2017 Kozy Kids Blanket Bee a Success!
A note from Joanna Bock, Project Coordinator: Thanks to 66 volunteers, including middle and high school students, Ithaca College and Cornell University students, members of the community, and even my 7-year-old grandson, we had our most successful Elves' KozyKids Blanket Bee to date! Cutters, sewists, folders, and packers worked from 8:30 until 5:00 to create a total of 336 full-sized and 12 polar fleece baby blankets for needy area children! And, everyone had a lot of fun doing it - especially knowing that so many kids will be snuggling under warm fleece this winter. Many thanks to everyone who helped. (And we are already looking forward to next year's Bee, the first Saturday in November. Come one, come all!)
| | |
| --- | --- |
| Cutting fabric | Folding blankets |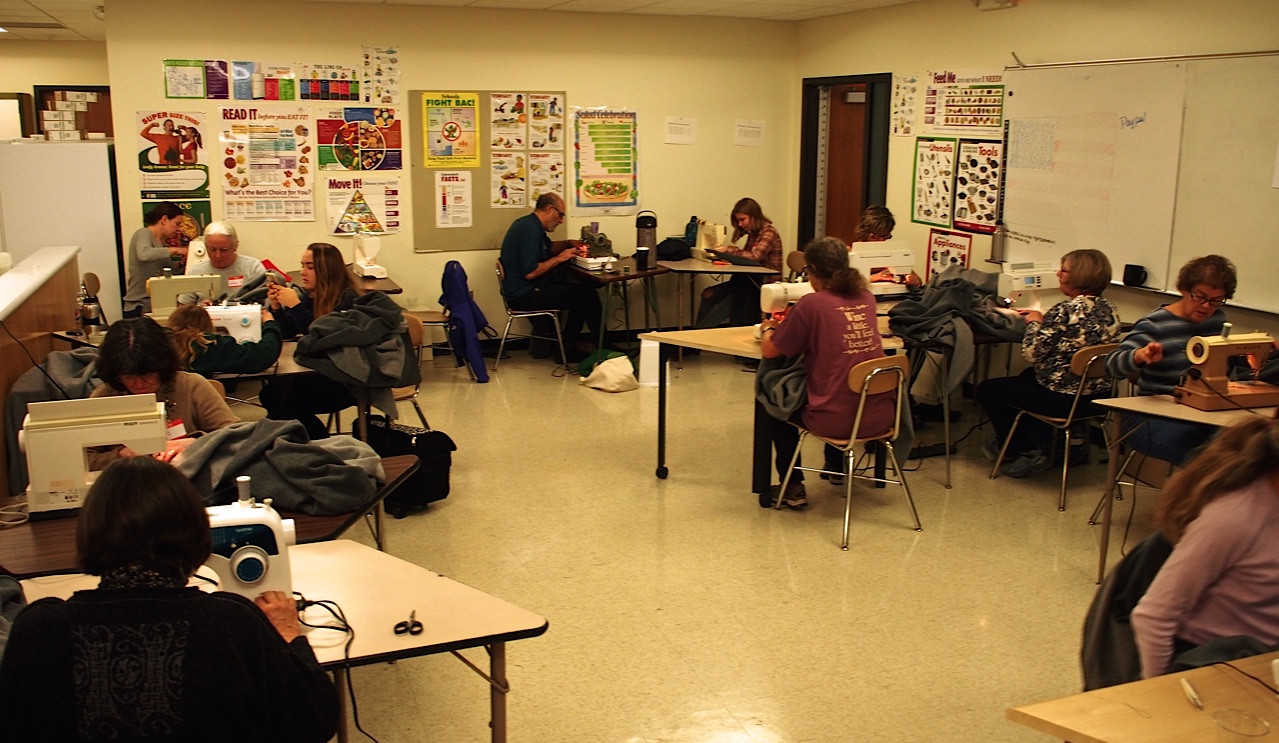 The sewing room
2017 Kozy Kids Blanket Bee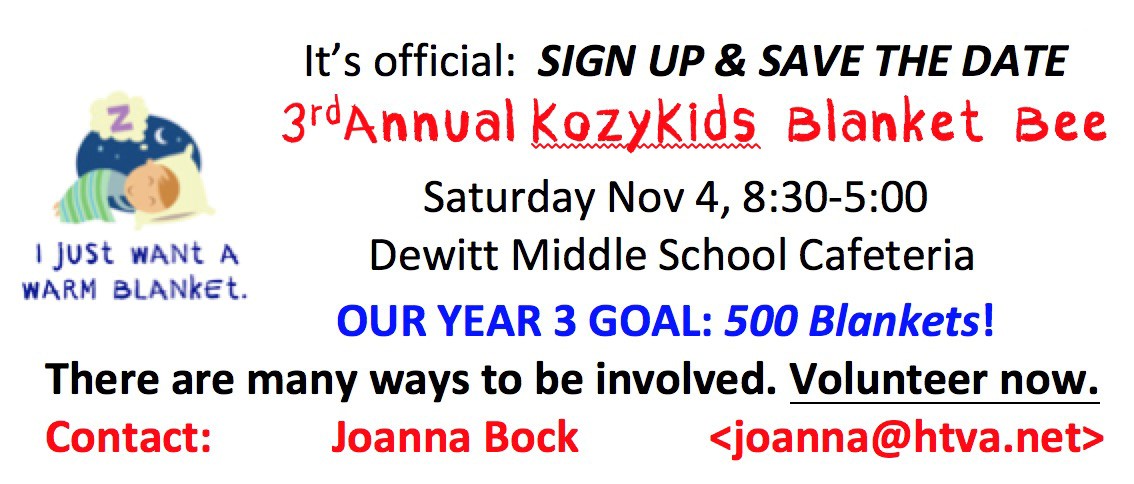 2017 Backpack Program Success
The Backpack Program had a successful eleventh year in that we delivered 1,110 new, filled backpacks to 31 area schools! What started out as a slow season quickly turned into two rooms at EHOB filled with backpacks and more backpacks collected on campus by each of the leaders! It became a steady flow of backpacks coming in and backpacks being picked up. The schools that received these backpacks were from Tompkins, Seneca, Tioga, Cortland, Cayuga and Schuyler Counties. Special thanks to:
. Walmart - each and every year they start us off with a generous donation from their Community Grant Program
. Our local UAW
. CFCU
. Cornell Libraries
. Law School
. Procurement
. Information Science
. Lab of Ornothology
. Law Offices of Miller Mayer
A Backpack Thank You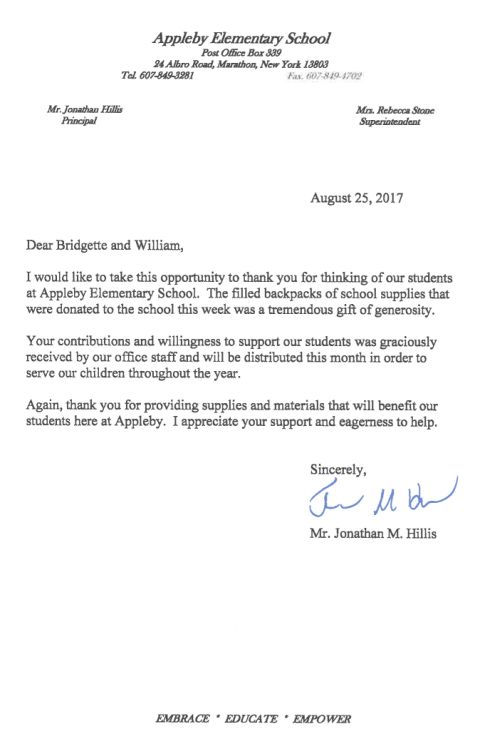 Some Fall 2017 backpack program helpers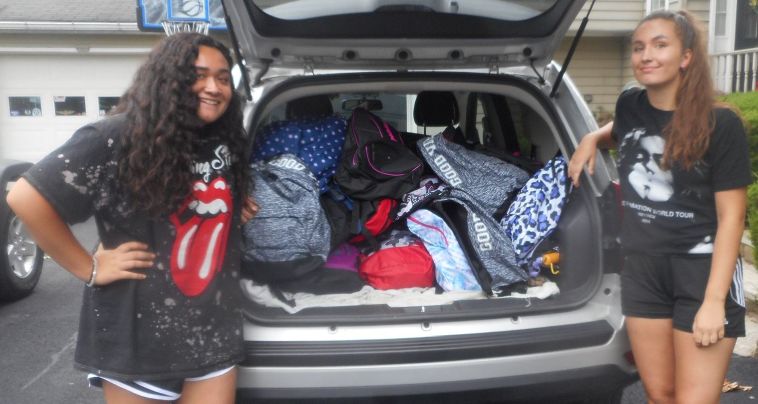 Cornell Lab for Accelerator-based Sciences (CLASSE) helps the 2016 elf program
CLASSE Elves participate in the Cornell Elves program instead of buying gifts for each other and celebrate with lunch and wrapping party! Back Row - Lonie, Bill, Micci, Katerina, Todd; Front Row - Megan, Jamie, Monica, Beth, Samantha, and Connie. Not pictured - Katie, Kathy, Barb, Tim, Steve, and Rick. Photo Credit to Rick Ryan, CLASSE Communication Spec III.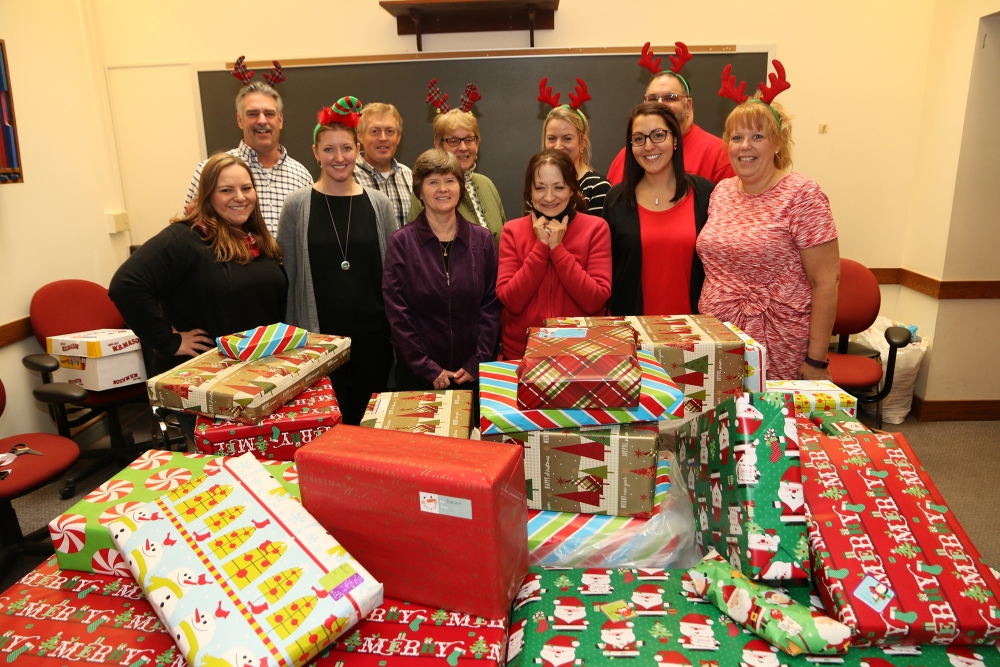 Elf Event at Jump around Inflatables
Michelle Zirbel, Elf Leader for Southern Cayuga and Union Springs Elementary Schools, recently held a fundraiser to benefit The Elves at her place of business, Jump Around Inflatables in Lansing. Look who showed up!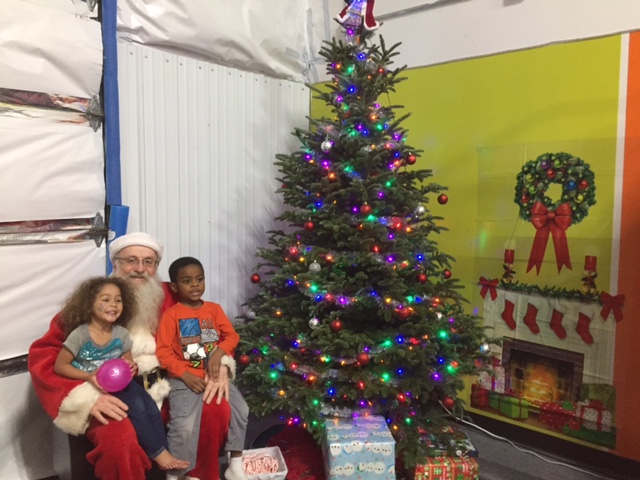 New York State Agricultural Experiment Station continues to help.
Members of the Station community sponsored 23 children from 12 families in the Geneva City School District as part of the Cornell University Elves Program. This is the 5th year members of NYSAES have taken part in the program by providing local children with a new outfit of clothes, pajamas, a winter hat, gloves, and a toy. Approximately $125 is spent on each child. This year the community also purchased new boots and winter coats for almost all of the children, said Beth Demmings, a postdoctoral associate and VitisGen project manager. Beth is also the Elf Program Leader for Geneva. Read more about it here: NYSAES news post.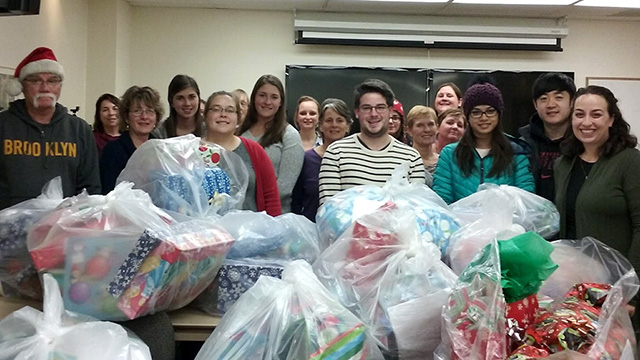 Cornell Counsel's Office Gifts for 2016:
Betty Blue Fundraiser Raises $1,022
The Betty Blue's fundraiser in Moravia was held on Saturday, December 3rd. Six guest bartenders who were teachers from Moravia Central school worked from 6PM until 9PM. The 50/50 raffle tickets and live band helped promote the event and raise funds. Special thanks to Joanne and Bill Badman, the Betty Blue Owners, for having this awesome fundraiser every year!
2016 Elves Blanket Bee
The Elves' Second Annual Blanket Bee was held on Saturday, November 5, 8:30 AM - 4 PM, at DeWitt Middle School. The hard work of three generations of Elves (well over 100 people) produced a blanket every 70 seconds. There will be 335 area children in need who will have a cuddly and warm winter this year. The blankets will be distributed in our 33 area schools as part of our Winter Holiday Program.
Many people deserve recognition for the success of this project, starting with Joanna Bock, project leader, and her family members which include her granddaughters! Also, Helen Perl and Melanie Murphy with the IHS Honor Society, the IHS Key Club, Ithaca College service club volunteers, and students from the Youth Bureau's College Discovery Program . Thanks also to the folks who lugged bolts of material, did the cutting and pinning, packaging and boxing. Special thanks to our room of people who brought their sewing machines to sew hems and complete the blankets. Also, custodian Carleen Corey was great. Jim Hull provided pleasant entertainmentwith his guitar and great singing voice which made a fun day even better. We plan to repeat the event next year, with a goal of 400 blankets! If you would like to participate, email Joanna Bock joanna@htva.net.

2016 Back Backpack Program Report from Maureen Brull, Program Leader
The Program far exceeded our expectations this year. Backpacks and donations came in at a steady flow and sometimes the three holding areas near my office were full, waiting for leaders on campus to pick up the backpacks for their schools. I want everyone to know that we have the most dedicated Backpack Elf Leaders that you can imagine. They hold fundraisers, raffles, silent auctions, etc. to bring in backpacks for their schools. If you visit our website www.elves.cornell.edu you will see some of the letters we received from very grateful school districts.
We had a fairly big challenge this year as we took on the needs of 31 schools. These schools were from Tompkins, Seneca, Tioga, Cortland, Cayuga and Schuyler Counties. Although we are not able to promise a school a certain amount of backpacks, we easily met the needs and provided 1210 new, filled backpacks to these 31 schools. Quite an accomplishment for the Backpack Elves and it well exceeded last year's donations of 954!
I would like to thank some specific groups who really helped us this year and hope that I don't leave out any in the process:
Walmart's Community Grant Program
The Cornell Law School
TreBella's Dance Studio in Dryden
Cornell Computing and Information Science
Cornell Commitment
UAW Local 2300
Cornell Federal Credit Union
Nielsen Company in Ithaca
Cornell Vet School
Miller Mayer Law Firm in Ithaca
Cornell Plant Science
Cornell Chemical and Biomolecular Engineering
And last but not least, I want to thank each and every person who helped for making this year so special for so many needy kids. I cannot tell you how much fun it was to see all of the different backpacks come in and trying to choose which one was our favorite or meeting people who had never donated before, or seeing a child bring a backpack in who had shopped with their own money to buy the new backpack and supplies. You made that first day of school very special for so many kids.
Many, many thanks from all of the Backpack Elves.
2016 Backpack Program Thanks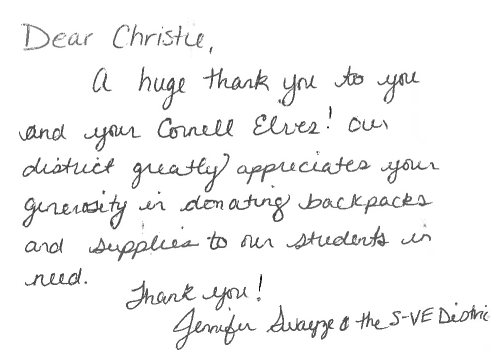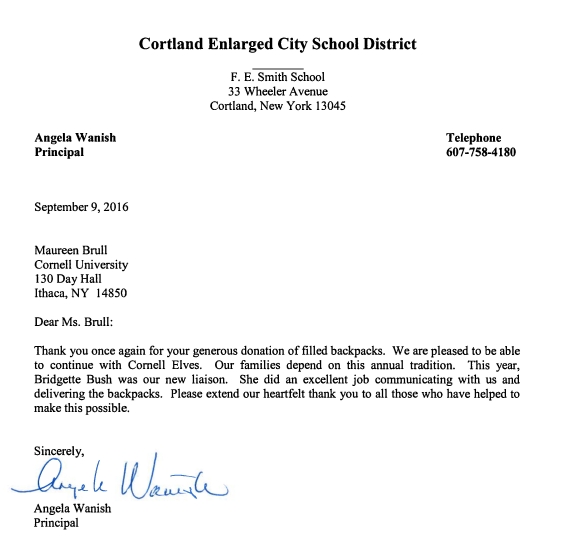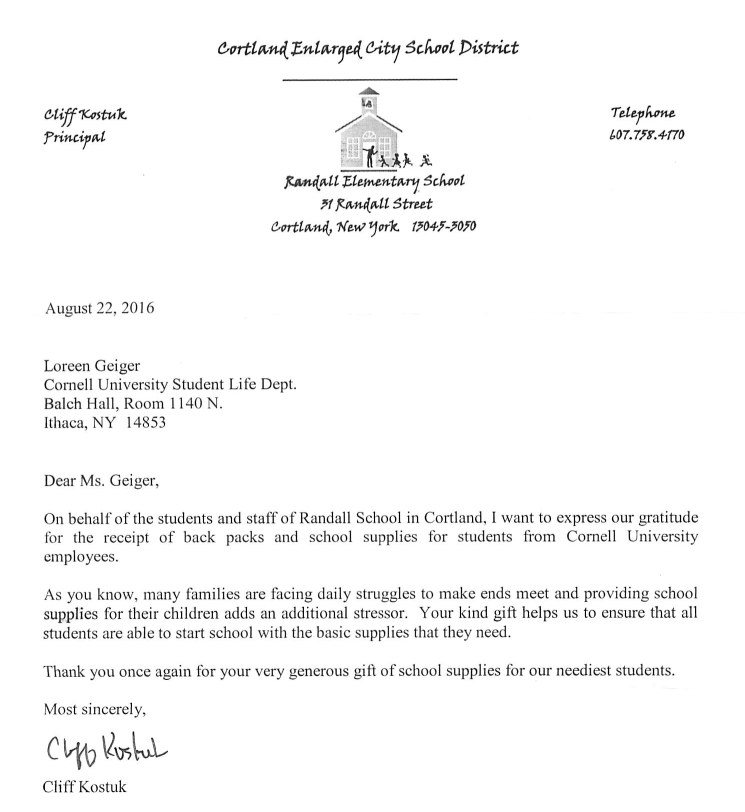 2016 Backpack Program Feedback and a note from one of our helpers
2016 Backpack Program Pictures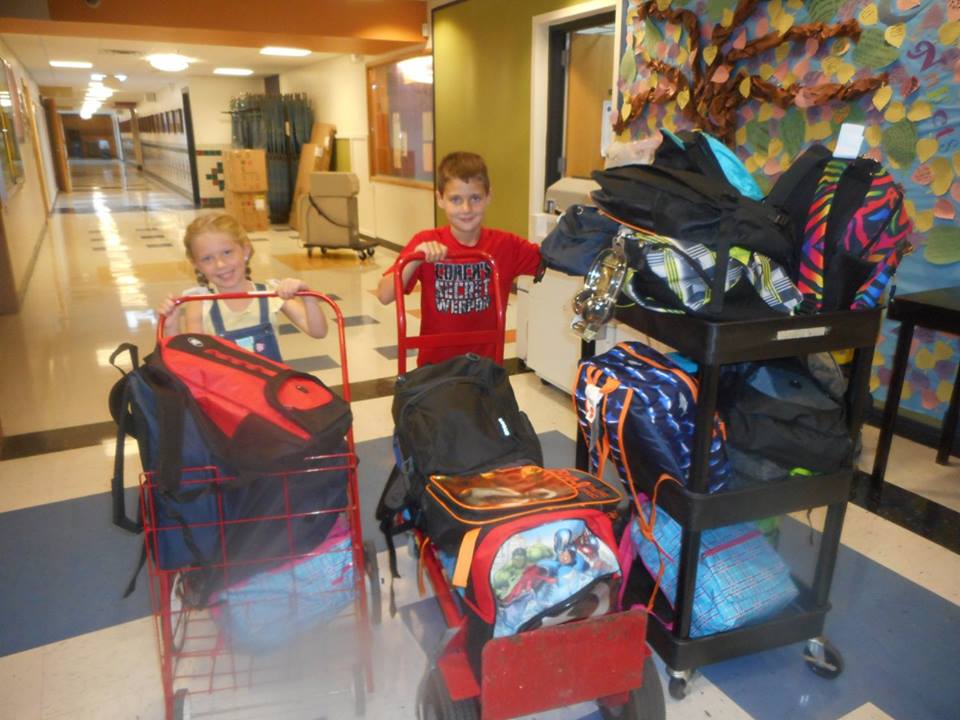 2015 Elf Packages Ready to be Delivered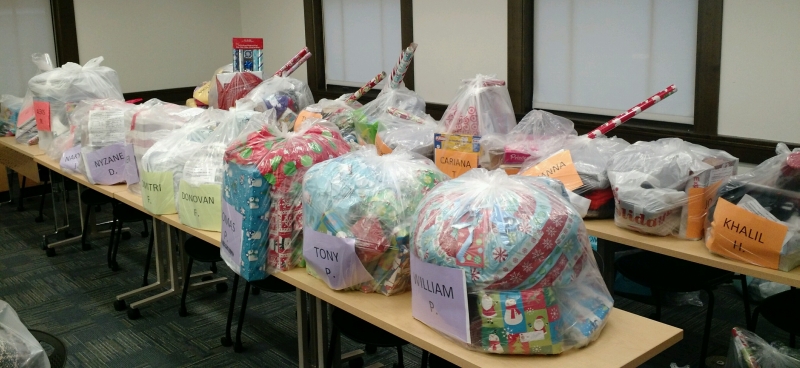 December 2015 Newark Valley Paddle Party Surpasses Goal
Penny Lane Spoonhower, Newark Valley Elf Leader, reports that their annual "Paddle Party" raised $2,082, enough to sponsor 13 needy children, the best year so far. Here's how it works: vendors donate auction items from their companies. Participants pay a $5 entrance fee and are provided with 4 bidding paddles. Guests may bid on an item using 1, 2, 3, or 4 paddles. Each paddle is a 25 cent bid. Quarters are placed in a cup on eachtable, and paddles are raised to indicate they've placed a bid using that paddle. Numbers are drawn from the "master bucket" until there is a winner.
Synchrotron Elves Buy Bikes (and more)
| | |
| --- | --- |
| | Four year ago the Elves at the Cornell Laboratory for Accelerator-based Sciences and Education (CLASSE) decided to not get each other gifts and instead participate in The Elves Program. They now have a holiday luncheon and wrap the presents together. Here's a quote and picture from that group regarding an unusual (and very pleasant) situation this year. "This year our family wanted bikes! So we opened up our participation CLASSE-wide and individuals could donate toward 3 bikes. We had one CLASSE employee who donated two new bikes so we only had to purchase one bike and because we believe in safety we also purchased 3 helmets! With the department wide generous donations we also partially helped with 2 other children and donated $173.54 to the central program to be used for other children." |
Betty Blue Fundraiser sponsors five children, raises over $600
| | |
| --- | --- |
| | |
Blanket Bee A Big Success!
The Elves' First Annual Blanket Bee was held on Saturday, November 7, 9 AM - 5 PM, at DeWitt MiddleSchool after a power outage at Ithaca High School forced a last minute change of venue. The hard work of three generations of Elves (60 people) produced a blanket every 2.2 minutes. There will be 220 needy area kids whowill have a cuddly and warm winter this year. The blankets will be distributed to needy children in our area schools as part of our Winter Holiday Program. Many people deserve recognition for the success of this project, starting with Joanna Bock, project leader, and to her family members which include her granddaughters! Also, Helen Perl and the IHS Key Club and Honor Society members she brought from played a large role. Thanks also to the folks who lugged bolts of material, did the cutting and pinning, packaging and boxing. Special thanks to our room of people who brought their sewing machines to sew edges and complete the blankets. Also, custodian Carleen Corey was great. Tom Ruscetti and Jeff Lang brought fiddle and banjo to play music which made things more fun. We plan to repeat the event next year!
| | |
| --- | --- |
| Cutting Fabric | Sewiing |
| Packed Up | Delivery |
Fall 2015 Backpack Program a Success
We had great feedback include this comment regarding all the backpacks that were delivered this year:
"I was blessed with a tremendous amount of donations from the community this year. Maybe because they realize that three of my four schools are in one school district. I dropped off 105 backpacks to them and the social worker told me that she went to the local trailer park where she KNEW that many of the kids lived and when she opened her car doors and trunk, it brought tears to her eyes as the kids couldn't figure out which one to choose! They were SO excited. And THAT's what makes this program worthwhile."
Thanks from Groton Schools
The Backpack program continues to make an impact at area schools.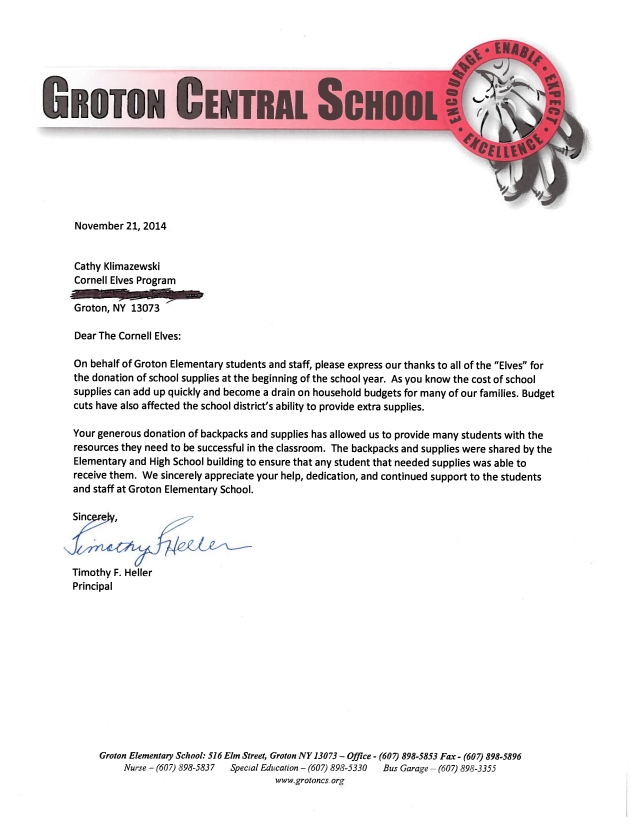 The Elves Launch the KozyKids Project
Sometimes it is the simplest things that can make a big difference. A warm blanket to snuggle with can help make cold days more comfortable. This new initiative will be particularly useful if next year's winter is anything like last year's with the coldest month ever recorded in the area. If you would like to participate contact Joanna using the information on the poster.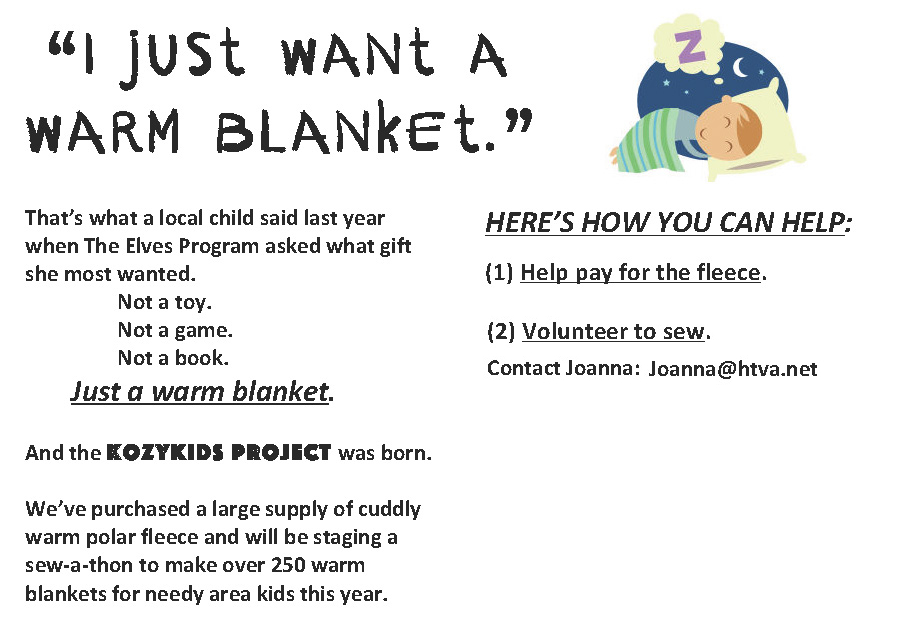 2014 Elf Program Presents
| | |
| --- | --- |
| Newark Valley Gifts | Even More Presents |
Newark Valley Elves Holiday Paddle Party
| | |
| --- | --- |
| | This annual event continues this year with more fun and gifts. |
2014 Fall Backpack Season Continues
Backpacks for Dryden students.
90 backpacks were delivered to Dryden schools.
Nearly 50 backpacks were sent to benefit Newark Valley students.
CFCU Community Credit Union donates 88 backpacks!
Cornell's Johnson Museum backpacks for 2014.
Elves Backpack program for Fall 2014 is in full swing.
CFCU Community Credit Union Helps Bring in Backpack Supplies
CFCU reached out to the Tompkins County community, and encouraged all who attended CFCU's Shred Day event to bring donations of school supplies. CFCU was able to collect over 95 items to donate to the Summer Backpack Program at Cornell. Here is some of what they collected.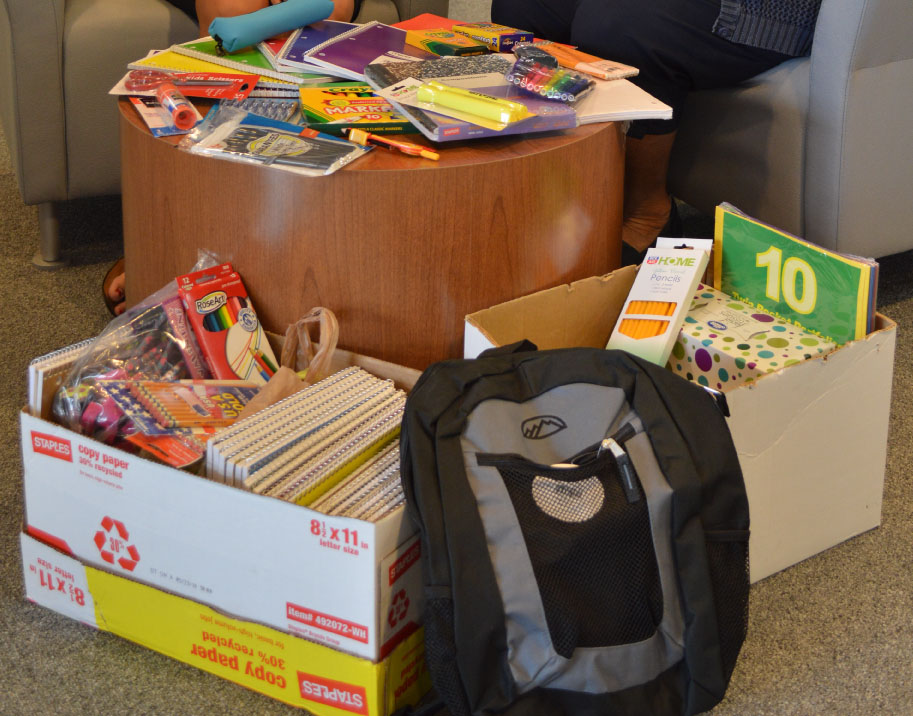 United Auto Workers Local 2300 donates $1000 to the Elves program. Thank you again UAW 2300!!
Left to right, the UAW staff members are: Chris Johnson, Ronda Park, Lesley Finch, Mike Shaw, Mr. Elf, and Terry Sharpe. Chris is co-editor of Bear Facts; Ronda is Financial Secretary; Lesley is Benefits Rep; Mike is Peer Counselor and Terry is the Local President.
"A portion of our dues money goes to assistance for families and children. We were happy to be able to donate $1,000 to the Elves and thank them heartily for all their hard work. We're impressed every cent goes to the mission of providing clothing and school supplies (and a few toys) for children in area schools." -Terry Sharpe
Newark Valley Elves Holiday Paddle Party / Quarter Auction
| | |
| --- | --- |
| | Skip the car wash and bring your rolls of quarters to the Newark Valley Elves holiday party to win some great items. |
Save the Dates, Betty Blue Fundraiser and Elmira Heights gift wrapping party.
The annual Elves fundraiser at the Betty Blue will be Friday, December 6th.

Also those in the Elmira Heights area can join the gift wrapping party on December 14th.
August 2013
Successful 2013 Backpack Season, 800+ backpacks delivered
| | |
| --- | --- |
| Geneva Backpacks | Virgil Backpacks |
The 2013 Backpack program had great support. It included a whopping 90 backpacks delivered to the Dryden Central School system and another 67 backpacks delivered to Smith Elementary in Cortland. Dozens of backpacks sent to other area schools brought the total up to over 800. We also welcome the New York State Agricultural Experiment Station community who joined the program for the first time. They sent 34 fully stocked backpacks to Geneva schools. NYSAES Blog post.
We received positive comments from many participants and school administrators including the following letter from Angela Wanish, principal of the Smith School in Cortland:
"Just the other day during our morning arrival time, I watched two children comparing and their backpacks. They were busy showing one another all the extra zippered compartments that made their backpack special. One of the children proudly announced that she had gotten her backpack right here at school. Thank you to you and your organization for making this possible. It is always a delight to watch as the children come in to choose their bags, carefully looking over the selection and comparing features. The backpack giveaway has become an annual tradition that so many of our families have come to depend on. We are so fortunate to be a part of this program. Please extend our heartfelt thank you to all those who have helped to make this possible."
United Auto Workers Local 2300 votes to donate $500 to the Elves Summer Backpack program. Thank You UAW 2300!!
July 2013
CFCU Community Credit Union Selects The Elves as Charity of the Month
| | |
| --- | --- |
| | Rebecca Roberts, Executive Assistant to the President and CEO of CFCU recently announced that their organization is supporting the Elves Summer Backpack Program as one of their two charities of the month during July! They will use teller donation jars to collect money and match employee donations dollar for dollar. In addition, CFCU will make a donation for every "like" they receive on their Facebook page. |
April 2013
Elf Founder Bill Alberta wins George Peter Award.
| | |
| --- | --- |
| Mary Opperman presenting a letter from President Skorton honoring Bill Alberta. | On April 23, 2013 Bill Alberta was presented with the George Peter Award at a surprise ceremony. This award is given to Cornell staff members who prove their willingness to extend themselves to help others. The presentation featured many of the Elf Leaders that Bill helped to inspire. |
December 2012
More Record Breaking Elf Deliveries
| | |
| --- | --- |
| Virgil Elementary School packages | BJM Elementary School packages |
Karen Snover-Clifts living room got a bit crowded with bags of gifts for kids at Virgil Elementary School.
Elf Leaders Brigid Beachler & Jo Hagin, along with Elf Assistant Pam Staub delivered bags of gifts for 103 children to Beverly J. Martin Elementary School, a new program record. They report being "tired but happy Elves".
Cornell University Elf Work In Materials Science & Engineering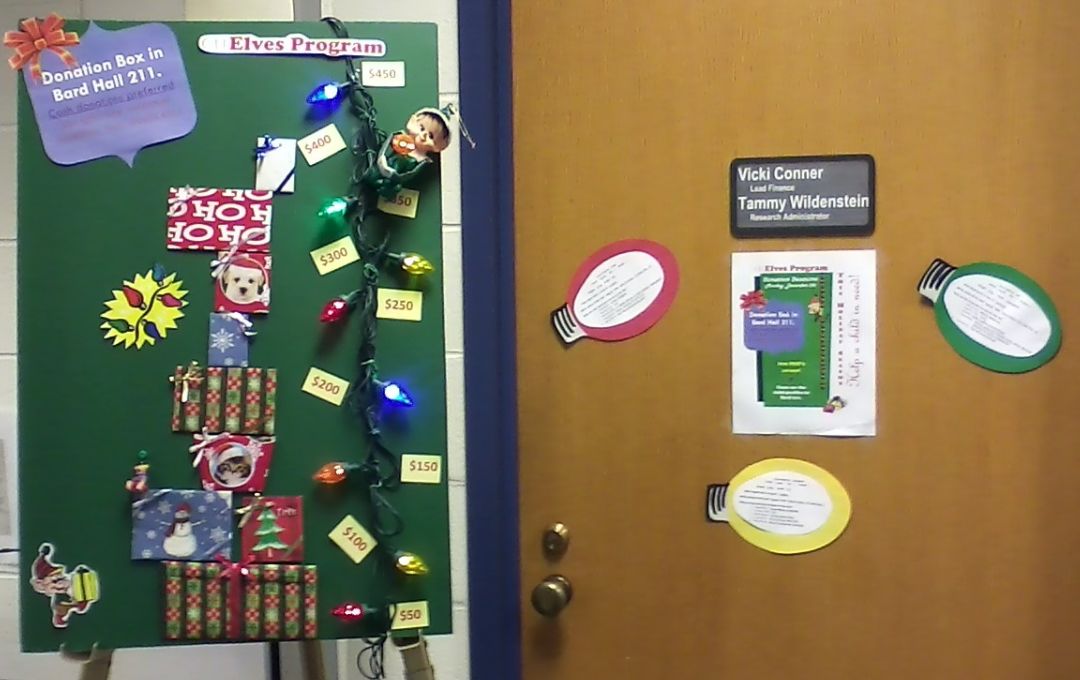 C.U. Materials Science & Engineering Bulletin Board
Our theme is "Elf on a String" (of lights). The Elf starts out dangling precariously from the bottom light bulb as if he's struggling to reach the first dollar milestone. Each subsequent light bulb has a dollar value assigned to it. As donations are received the Elf moves up the string of lights sitting on the light that marks the amount of the current total donations. In addition, his stack of presents grows higher as the Elf climbs up the string of lights. This year, we surpassed our goal, and the stack of presents went "over the top". We planned to adopt 3 children and we actually were able to adopt 5. - Tammy L. Wildenstein
Cornell University Chemical and Biomolecular Engineering helps the elves.
| | |
| --- | --- |
| C.U. Chemical & Biomolecular Engineering Bulletin Board | CU Elves CBE Style ~ Each year, the School of Chemical and Biomolecular Engineering adopts approximately three children to support through the CU Elves program. A flyer is designed, distributed in mailboxes, and posted around the building. Multiple emails serve as reminders for program specifics and deadlines. Donations and gifts are collected in both the finance and business offices where child profiles are displayed. New this year (2012), an Elves bulletin board was created to serve as an interactive visual, set up in the main office to remind faculty, staff, and students to support the program. For every $20 raised, givers were offered the option of hanging either a gold or green money ornament on the Elves bulletin board tree display. The goal was to fill the entire tree! Not only was Team CBE able to reach its goal of sponsoring three children, but the tree was so full that the department exceeded its goal by two children! Team CBE concluded the Elves season with a staff wrapping party and delivered the gifts to their appropriate Elf Leader! Way to go, Team CBE! Thank you for making the season a bit brighter for five special kiddos! - Olivia Cully |
Successful Fundraiser at the Betty Blue!
| | |
| --- | --- |
| Bill & Joanne, Owners of the Betty Blue | Billy, Kyle & Brandon Guest Bartenders |
Friday, December 7th the Betty Blue in Moravia held a fundraiser for the Cornell Elves Program. The owners Bill & Joanne Badman have done this event for the past 3 years. This year they had special guest bartenders and also sold snowflakes and the money that was raised went to the program. The fundraiser went from 7-10 p.m. We raised $1238.84 that went to needy children at Moravia Central School. Thank you to Bill & Joanne for supporting this community event again this year and sponsoring so many needy children in the area! - Valerie Kelly, Elf Leader for Moravia
December 2012 Fundraising Bazaar
As the Elves Program gears up for the season we are fundraising with a Holiday Shopping Bazaar, Sunday, December 9, 2012, 11 AM - 3 PM at the Newark Valley Fire Station.
Come, browse and do some holiday shopping! You will find local vendors from Scentsy, Miche, pampered chef, Vantel pearls, Tupperware, Silpada, cookie lee, tastefully simple, Kelly and company photography, curl up & dye, Mary Kay and many more.
There will be pulled pork bbq dinners available at noon until they are gone - sponsored by the Newark Valley wrestlers club. We will also be raffling off a gift basket, which contains products donated by the vendors. All proceeds will be donated to the Cornell Elves program.
A free gift wrapping table and children's activity corner will be set-up so parents can enjoy a "worry free" shopping experience.
December 2012 Thanks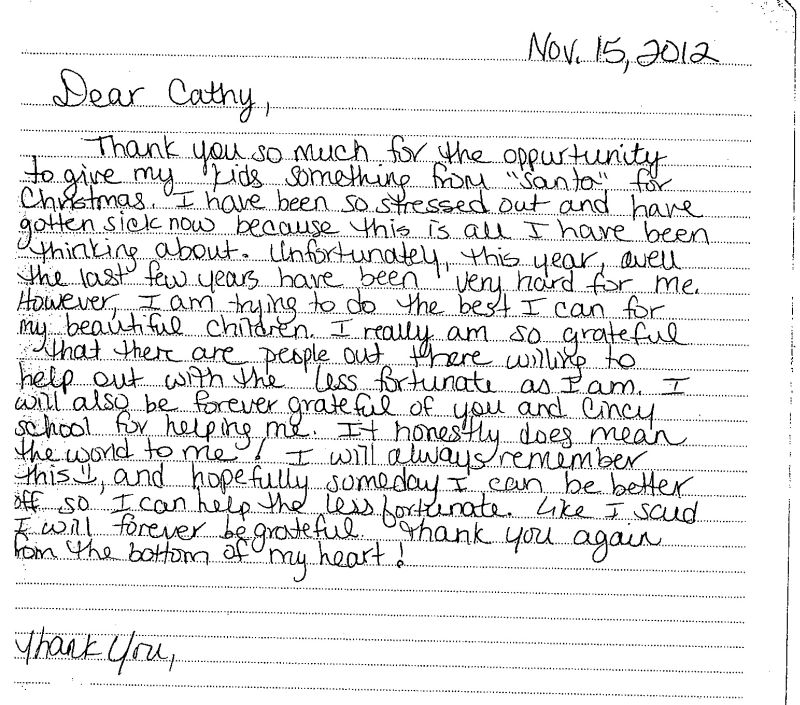 November 2012, Elves in the news
On November 27th the principal of the Elmira Heights school was interviewed on the WENY-TV morning show and discussed the Elves program and its history. Thanks for the press!
September 2012 Thanks and Praise!
The backpack program receives thanks after another succesful year:
"Thank you so much for including Dryden in the backpack program again this year. You cannot imagine the smiles on the faces of these young students when they get a new backpack with all the great supplies inside. On Tuesday I had a third grader come to me because his used backpack was literally falling apart and he asked if I could help him. I had 1 backpack left and you would have thought it was Christmas. He left with a huge smile and another positive connection to his school. The generosity of your staff is so appreciated by the students, parents and staff at Dryden Elementary School. Each year I am overwhelmed by the number of backpacks we get. I think this school year we have given away from 60-70 backpacks." Mary Hicks, Dryden Elementary School.
"I just want to thank you personally for the kindness you and the Elves spread. I wish you could see the excitement on the parent's faces when they see the packages that have been left by the elves." Christine Laughlin, RN, Newfield Elementary School.
December 2011

December 17-
CORNELL COHEN SCHOOL ELVES DROP-OFF & DESSERT-TO-PASS-PARTY!

You are invited to join the Cornell Cohen School Elves for a Drop-Off & Dessert-to-Pass-Party on Saturday, December 17 from 1:30-3:30pm in the DeLorme Room at Oakwood United Methodist Church in Elmira Heights.

Everyone and anyone is invited and Heights sponsors can bring their wrapped or unwrapped gifts and enjoy the spirit of the holiday!
Please RSVP to Cindy DeLorme Greco by December 15 to cindy.greco@cornell.edu.

See you at the Party!

Thanks so much ~
Cindy DeLorme Greco, Elf Leader for Elmira Heights Elementary School


December 8 -
The Elf Mobile rolled out yesterday afternoon and made a very large delivery to Enfield Elementary School.Thank you so much for your generosity in participating this year in the Elves Program. Your participation will brighten this Holiday Season for a child (children) in Enfield. Because of your support and the support of others, we were able to provide gifts for 36 children through the Enfield Elementary School this year. We really appreciate your effort and hope you enjoyed your experience as an Elf. Many of you sponsored children with friends, family members, and colleagues whose names we do not know. We hope you will forward this message on to them and extend our sincere thanks to all of them.

Wishing you a very Happy Holiday Season!


The Elf Team Leaders for the Enfield School
Pat Avery, Lori Asperschlager & Angelica Hammer

December 4 -
Newark Valley held its first annual Vendor Craft Show on Sunday, December 4 from 11am-2pm at the Newark Valley Fire Station. Vendors provided a portion of their profits to help support children through the Cornell Elves Program. We had vendors like Pampered Chef, Kelly Mann Photography, Scentsy, Thirty-one, Vantel Pearls, Cookie Lee, Italiano Bakery and many many more. This show raised $480 which will sponsor 5 Newark Valley Children this year. A very special thank you to Erin Short and Cheri Sigmund who gave so much to make this such a great success! It is magnificent to not only have Cornell's support, but to have community support as well. Many thanks to all!

December 2 -
Valerie Kelly, Elf Leader for Moravia Middle School, writes:

This is the 2nd year that the Betty Blue in Moravia sponsored a fundraiser for the Cornell Elves Program. We had 4 guest bartenders who helped Birley bartend : Chris, Rocky, Andy & John. The event was Friday, December 2nd from 7-9 p.m. We raised $567 in two hours and the Betty Blue matched that for a total of $1134!! This money will be used to sponsor 10 children in Moravia Central School and any left over money will go to the Superintendent to support children in the Middle School. Thanks to everyone who came to show their support!
November 2011
| | |
| --- | --- |
| | Jacob Sneva, Director of the Cornell Tradition Program in the Cornell Commitment Office, and the Cornell Tradition Elves recently held a bake sale fundraiser on Ho Plaza. Despite having to face a chilly, rainy day, they raised $130, enough to sponsor a child entirely. They will also shop for several other children, using money donated by other Elves. |
| November 27 - | Europa Hagarman, Zumba instructor in Spencer, and Hilary Alve-Schilling held a "Zumbathon Fundraiser for the Elf Program" the Sunday after Thanksgiving. They created a Facebook event to raise awareness: "Come join Hilary and Europa on Sunday, November 27th for a calorie blasting Zumbathon and work that Thanksgiving feast clean off! Two full hours of sweaty good fun with your favorite hip shaking, tassel swinging, Zumba lovin' ladies!" They raised almost $400! |
| November 11 - | Bake sale in the Statler Hall's Atrium starting at 9am until sold out. If anyone would like to donate any baked items please contact Michelle (mlz2) or Melissa (mlb67). |
| November 12 - | Fundraiser at the bar called The Ridge in Lansing, 1100 Ridge Road (34B), 2:00pm until close. Michelle will be bartending and donating all her tips to the Elf program. Also we will also be collecting NEW unwrapped toys. There will be: 50/50 raffle, door prizes, drink specials, appetizers, and a D.J.. |
September 2011

Maureen Brull, Elf Leader for our Summer Backpack Program, proudly reports that a new record was set this summer. We provided 539 new backpacks filled with essential school supplies to 19 area schools! We also received an urgent request from Owego Elementary School for 100 backpacks and 100 whiteboards. The Elves came through again. Thanks to all involved.
Elf helpers at a local fundraising bottle drive.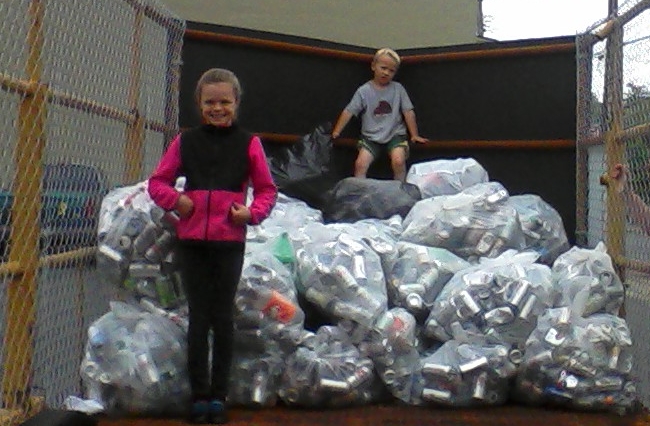 ---