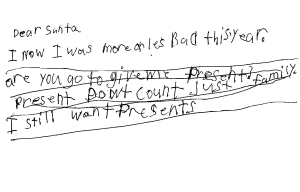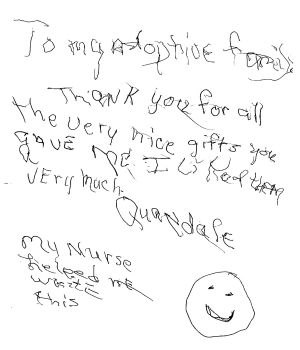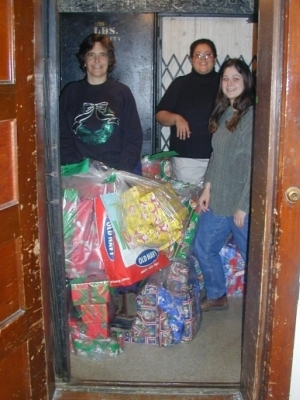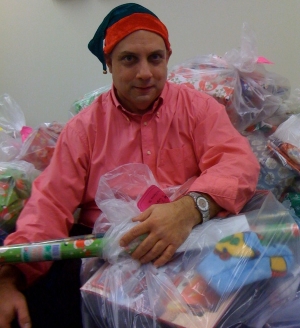 What People Are Saying
View news stories about the Elves Program at the bottom of this page.
If you would like to leave comments about your experience, please contact the Elf Organizer Bill Alberta, wna1(at)cornell.edu
"Than you so much for making us a beautiful Christmas. I can not thank you enough for everything you did for our grandchildren. They repeatedly said all day "Grandma, I was a real good girl this year." Every one of you are real angels. We are very grateful. Thank you from the bottom of our hearts. We can't thank you enough for making our Christmas so special.
"I would just like to say thank you for providing such a wonderful service to the local schools and children of the Ithaca community. For the last several years my daughter has been the recipient of your Elf program. Each year I mark all the gifts we receive from our elf from Santa, because really they are bought and given in the spirit of what Santa and Christmas mean to me. Giving to others, without expectations, without wanting anything in return. You bring joy into childrens lives. It's one of my favorite christmas miracles. Thank you to all your wonderful, caring, giving elves."
"This year our children were recipients of your generosity. I apologize for the late thank-you note, I promise your efforts greatly improved our holiday season. I cannot thank you enough- our daughter had been begging for the Walking Talking Pinkie Pie. When she found it under the tree Christmas morning I think her smile was brighter than the lights. And our son hasn't yet stopped building houses for his Optimus Prime with the blocks- it really is fun watching Optimus break his way out. :-)
I was not proud of the fact that my husband and I had to ask for help this year- when we were both laid off at once I had no idea how we were going to get by, and Christmas magic seemed beyond our reach. Thanks to you wonderful Elves, our children are sure there's a Santa. And so are we. They may not have been delivered on a big sleigh by a man in a big red suit, but we all got our Christmas wish this year and it would not have been possible without you. Thank you, so much."
"I don't think there is enough thanks I can give you for all you have done for me and my family. We are so grateful to have you in times of need. It is you that makes the world a better place."
"One of our Dads (single Dad) came in and he has 2 kids. We handed him one of the bags and when he realized that it was only for one of his kids, he couldn't believe that there was another whole bag of gifts! He was so thankful and appreciative he had tears in his eyes!"
"Thank you so much for helping our family during this trying time."
"You have made our holiday season fantastic."
"Thanks you so much for assisting my family this holiday."
"All that you do makes it wonderful."
"I would like to take this time to say thank you so much for helping our family during this trying time. My children are major believers in Santa Claus and without your help I'm afraid their hearts would have broken."
"It is an amazing program."
"It helps so much more than you will ever know! Thank You!"
"The kindness and generosity are felt and remembered all year long."
"My children and I were completely amazed by the generousity shown to us."
"We hope you continue to spread joy to children and their families."
"Thank you. This will help brighten our holidays in so many ways."
"This program is excellent and I hope it continues."
"This program means so much to myself and others."
"I am glad there are such carring people in the community."
"Invention is the mother of too many useless toys."
The Elves Program in the News
"1,000-plus children receive backpacks with school supplies "
By George Lowery, September 19, 2017, Cornell Chronicle
"Cornell Elves Program strives to help the neediest of the needy"
By Tiffany Ruff and Sally Young, December 28, 2014, Ithaca Voice
"Elves wanted"
December 6, 2012, Pawprint.
"Cornell Employees Collect, Donate Backpacks to Students in Need"
By Manu Rathore, September 4, 2012, Cornell Daily Sun.
"William Alberta M.S. '77 Gives Back:
Leader of Cornell Elves program reflects"
By Manu Rathore, April 9, 2012, Cornell Daily Sun.
Video: Staff Notes: Bill Alberta extends a hand beyond Career Services
Starts at 4:20, by University Communications, January 7, 2012, CornellCast.
"Great season for the Elves!"
By Bill Alberta, Page 4, January 20, 2011, Pawprint.
"Elves program provides hundreds of backpacks to schools."
By Kathleen Jercich, September 13, 2010, Cornell Chronicle.
"The Spirit of the Season: Looking Outward."
By David J. Skorton, November 29, 2006, Cornell Daily Sun.
"Staff Reach Out to Community."
Page 1, December 16, 2004, PawPrint.
"CU Staff Reach Out to Their Communities."
Page 3, November 18, 2004, PawPrint.
"A generous spirit."
Page 1, January 9, 2003, PawPrint.
"The Elves Are at Work-Holidays to Arrive Soon."
Page 2, November 7, 2002, PawPrint.
"Cornell 'elves' bring clothing and toys to the most needy area children."
By Bill Steele, January 21, 1999, Cornell Chronicle.