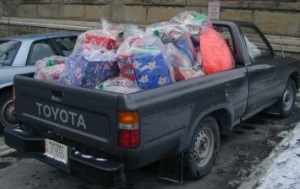 More Feedback & Press
The Elves Program was founded in 1989 to benefit children in great need in Tompkins County and the surrounding area. Thanks to hundreds of volunteers, the program has provided clothing, school supplies, and toys to thousands of students from dozens of area schools.
Caring people from across the Cornell community and beyond are encouraged to participate - anyone can become an Elf! Read our FAQ to learn more.
"Joy increases as you give it, diminishes as you try to keep it for yourself. In giving, you will accumulate a deposit of Joy greater than you ever believed possible." -Norman Vincent Peale
Gifts ready to go: